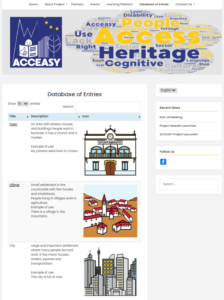 In spite of the difficult situation around us and impossibility to meet face to face our work on ACCEASY project continues.At this moment we would like to offer you an opportunity to visit our Database of Entries of ACCEASY project at https://www.acceasy.eu/database-of-entries/. At this moment we are starting with the development of database and it will be updated regularly with more than 150 entries. Please, follow our news to learn more as we will inform you once the database is completed.
Easy to Read Easy to Access / ACCEASY / 2019-1-ES01-KA202-064279

The content of this document does not reflect the official opinion of the European Union. Responsibility for the information and views expressed in this document lies entirely with the author(s). Reproduction is authorised provided the source is acknowledged.