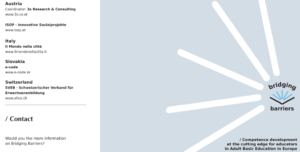 The consortium of Bridging Barriers project is excited to bring you the first leaflet of the project. The leaflet can be downloaded in English and Slovak language from the following links:
English version of Bridging Barriers leaflet
Slovak version of Bridging Barriers leaflet
For more information about the Bridging Barriers project, please, visit http://www.bridgingbarriers.eu/.
Competence Development at the cutting edge for educators in Adult Basic Education in Europe / Bridging Barriers / 2019-1-AT01-KA204-051476

The content of this document does not reflect the official opinion of the European Union. Responsibility for the information and views expressed in this document lies entirely with the author(s). Reproduction is authorised provided the source is acknowledged.