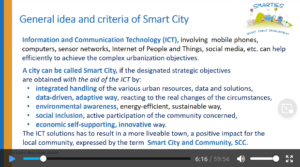 SMARTIES team is proud to announce that we finalised our SMARTIES Moodle course and its four webinars recordings are now available in English language on our site and, most importantly, at SMARTIES Moodle course site. If you wish to access just the recordings you can do so below or at SMARTIES project website. If you wish to benefit from all the features of SMARTIES course, please, register at our Moodle site and enjoy all the features of our SMARTIES Moodle course.
Webinar 1
Module 1 : Understanding the Smart City concept
Module 2: Smart City's Startegic Principles
Module 3 : Shapping a Smart City Ecosystem
Module 7 : Managing a Smart City
Case Studies
Webinar 2
Module 5: Financing a Smart City
Module 8: Smart ICT Infrastructure
Module 10: Smart Environment
Case Studies
Webinar 3
Module 11: Smart transport
Module 12: Smart energy
Module 13: Smart lifestyle
Case Studies
Webinar 4
Module 4: Developing a Smart City
Module 6: Role of People in Smart Cities
Module 9: Smart Governance and Role of Leadership in Smart Cities
Module 14: Smart City Planning
Case Studies
Smart Skills Development / SMARTIES / 2019-1-SK01-KA204-060691

The content of this document does not reflect the official opinion of the European Union. Responsibility for the information and views expressed in this document lies entirely with the author(s). Reproduction is authorised provided the source is acknowledged.