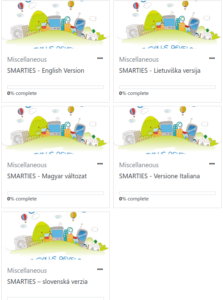 SMARTIES project is successfully reaching its final stage and we are most happy to introduce you its most important and final output – SMARTIES Moodle course in multiple languages. The course on development of smart cities is now available in English, Danish, Hungarian, Italian, Lithuanian and Slovak languages. Please, register at our Moodle site and enjoy learning at your own pace.
Smart Skills Development / SMARTIES / 2019-1-SK01-KA204-060691

The content of this document does not reflect the official opinion of the European Union. Responsibility for the information and views expressed in this document lies entirely with the author(s). Reproduction is authorised provided the source is acknowledged.