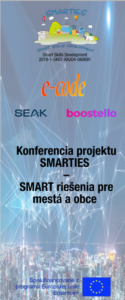 We are happy to welcome you as representatives of cities, municipalities, educational organisations, businesses or just those interested in the development of smart cities at the "Conference of the SMARTIES project – SMART solutions for cities and municipalities." The conference is organized within the Erasmus + project and will take place on September 9, 2021 at the Hotel Tenis in Zvolen, Slovakia. We have created an educational platform just for you, on which you can learn more about how to approach the creation of SMART solutions for your municipalities, which we will be happy to present to you and also make available free of charge. Capacity is limited to 50 participants. Participation in the conference is free for all participants. Language of the conference is Slovak.
The program of the conference can be downloaded from here.
Registration for the conference is possible directly from the programme document above or following this link.
Thank you in advance for your participation or for sharing this invitation.
Smart Skills Development / SMARTIES / 2019-1-SK01-KA204-060691

The content of this document does not reflect the official opinion of the European Union. Responsibility for the information and views expressed in this document lies entirely with the author(s). Reproduction is authorised provided the source is acknowledged.