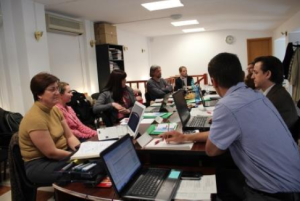 Once again we are proud to become a member of yet another new Lifelong Learning Programme project – eSchool4S. More about the project can be found here or on its official website http://eschool4s.eu/concrete/.
The kick-off meeting in Bucharest, Romania, took place on 2nd, 3rd and 4th April 2014. We have enjoyed great hospitality of our Romanian partners and a very productive working atmosphere. eSchool4S has a great partnership consisting from the partners from almost all the Danube countries – Germany, Austria, Slovakia, Hungary, Croatia, Serbia, Bulgaria and Romania. We are really glad to be part of this partnership and eager to start working on the project. Our role will be mainly in Moodle platform development so that is just one more reason to be looking forward to our achievements.
More information about the meeting can be found here.