INSPIRECO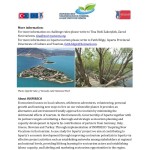 project invites you to design your own trip to the Turkish region of Isparta. The winner will travel to Isparta where they will experience a part of the adventure they have designed.
The competition is open to anyone from EU, Switzerland, Norway, Iceland and Turkey. The aim is to create an innovative and sustainable trip around the Turkish region of Isparta and the prize is a trip to Isparta itself.
For more information please download the competition's leaflet.