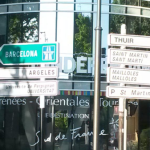 Frankly I was afraid I would not make it to this meeting thanks to my fractured toes (another story) but I am lucky I did. Strangely as well, for all those years working with the EU projects this was my first real visit to France. And yet another funny thing, when I looked at the agenda, most of the things did not make any sense to me. There were items such as Lagune Salses-Leucate, Saline La Palme or déchetterie Perpignan, all Greek village to me thanks to my zero knowledge of French.
At the end all went well. Those no-clue-about items on the agenda were actually local places we visited on 20th June 2014. There was firstly this small but nice museum/exposition right in the lagoon and about the lagoon – displaying shrimps production, local wildlife, local history. Next we had a chance to visit a sea salt farm. Interesting thing to see especially for us coming from a land-locked country. We also enjoyed a lovely lunch consisting of locally produced sea food at the very same farm. Finally we paid a visit to the waste treatment plant of Perpignan.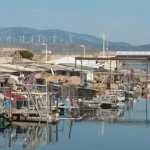 The second day of the meeting, 21st June, was more business oriented. It means we were working in a meeting room, carrying on with the planned workshops and dealing with managerial issues. Workshops were focused on energy consumption, consumer education and especially on saving our daily resource (water, energy, food). The managerial part was a real killer. No wonder as the project has reached its half and it was time for the interim report and for some important arrangement on how to successfully continue.
A few pictures from the meeting can be found in this gallery.
Au revoir Perpignan!