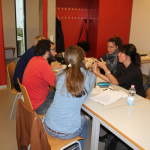 The time has come for the 4th Happy Home Wallet partnership meeting. This time the meeting took place in Locarno, a small town located in the Italian speaking part of Switzerland on 7th and 8th October 2014.And once again this was my first visit to Switzerland. Nevertheless, the place was really beautiful. The area was full of lakes and mountains and, in spite of the high altitude, there were palms growing everywhere. The access was a bit difficult as I had to fly to Bergamo and travel by train from there but even the view from the train was spectacular. So, yes, we have all enjoyed some unforgettable sceneries.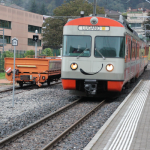 On the other hand, we were also productive and carried on quite a number of project tasks. I must point out that actually the meeting took place in several locations. We were accommodated in Locarno and met in there twice but we also visited such places as Biasca, Lamone and Bioggio where we continued with our scheduled tasks and at the same time visited some interesting places working in the areas related to the project. In Biasca it was a photovoltaics researching and developing some truly interesting new technologies, In Lamone it was another energy related facility and finally in Bioggio it was wastewater treatment plant. Even the last place was interesting to compare with the practice in Slovakia.
Obviously, we were also working on administrative issues of the project. We still have a few more tasks remaining and the project is already in its second half. But my feeling is that it is going to be real success. I am already looking forward to the next meeting taking place in Polish Poznań.
A few pictures from the meeting can be found in this gallery.
Arrivederci Locarno!
Oh, and I almost forgot to mention that one really needs a deep pocket in Switzerland. But it is worth to see, that is for sure.