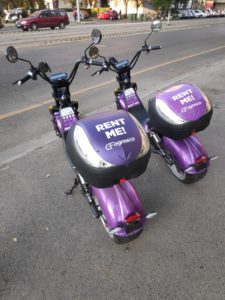 We are most happy to announce that the project Smart Skills Development (SMARTIES) successfully started with the Kick-off Meeting organised on 3-4 October 2019. The project is oriented towards adult educators in the area of smart cities development.
For more information about the SMARTIES project, please, visit http://smarties.e-code.sk/.
The Kick-off Meeting took place in Budapest, Hungary, on the premises of our Hungarian partner – Budapest University of Technology and Economics. While the project activities started already in September 2020, these were mostly oriented on preparatory tasks – production of project management documents and templates, adaptation of the project's GANTT chart for shortened approved project period (compared to the project proposal), preparation of partnership agreements, studying the tasks within the project, project webpage preparation. At the meeting the partners were in detail introduced to these materials and new tasks. The most important tasks on the meeting's agenda are summarised in the following points:
Partners introduction.
Detailed introduction of the project including the roles and tasks of partners and the timetable in the form of updated GANTT chart of the project.
IO1 Survey of Needs.
IO2 Curriculum Development.
IO3 Course Materials Development.
Project management rules, communication rules, rules for project progress monitoring.
Project website introduction and the tasks of partners in developing the multilingual website version.
Dissemination plan.
Apart of introducing the project and its tasks by the project coordinator, the partners also played their important role. As each partner is a leader of either an intellectual output or the tasks of dissemination of project results or project sustainability, each partner presented their own strategies for leading their respective agendas. These strategies were also discussed and decisions made by the whole partnership. The results of the meeting are summarised in the document "Minutes of the Kick-off Meeting" which was distributed to all the partners short after the end of the Kick-off Meeting.
Smart Skills Development / SMARTIES / 2019-1-SK01-KA204-060691

The content of this document does not reflect the official opinion of the European Union. Responsibility for the information and views expressed in this document lies entirely with the author(s). Reproduction is authorised provided the source is acknowledged.